---
---
The NiftyBUNDLE comes with a whole pile of synthy stuff. Case, modules, power, MIDI to CV, and enough patch cables to get into trouble are all included.  You would be hard pressed to find a more fun bundle of synthy crap for any amount of $ much less $269.99..... After all what's a party without a bunch of wood, wires, and circuit boards and Beer?
THE Nifty Case
At 84hp wide it isn't super tiny or super huge, in fact, it's just right for all of the cardboard boxes we bought to ship it to you in. Aside from the 84hp width NiftyCASE features ample +12v -12v and +5v power for your modules. It will also take Din MIDI from any DIN MIDI device and USB MIDI from your computer and turn it into eurorack compatible CV, gate, mod, and clock. It's Nifty…..
Made with love out of metal and real wood, NiftyCASE gives you 84hp which is just enough room to put together an interesting mix of modules while staying completely portable.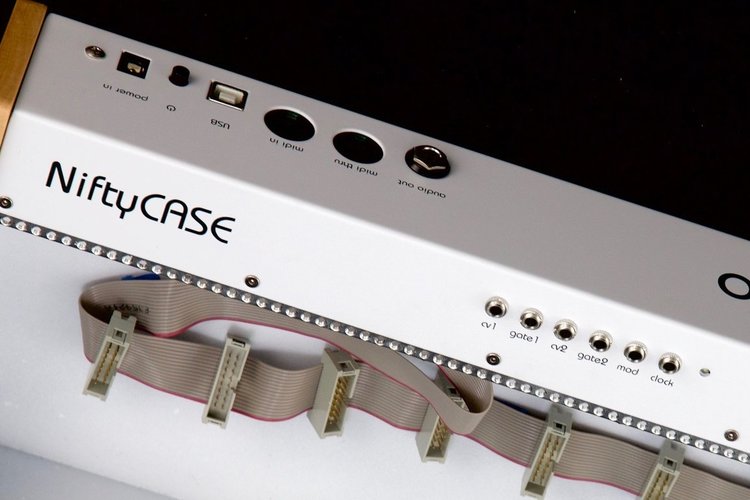 MIDI to CV, gate, clock, and mod
It's all built into the case. Make your instrument and don't waste precious hp (space for modules) on power and MIDI tools. Instead of more boring tech info or marketing speak we'll continue with ample filler here for a few seconds. Nullam porta ipsum augue, ac dapibus est lobortis id. Aptent taciti sociosqu ad litora torquent per conubia nostra, per inceptos himenaeos. Morbi non enim at nibh consequat commodo. Okay, that was nice. All we really should have said was that you can plug NiftyCASE into your computer via USB or 5pin MIDI DIN device and send it MIDI. It will convert it into CV, gate, mod, and clock. Sequence with your DAW, jam with your controllers, or do something wacky, NiftyCASE has got you covered.
Built-in power saves space for more of your modules, and keeps things good and easy.
As is, you can plug up to 10 modules into NiftyCASE's 10 gang flying bus that provides a peak 1500mA of +12v, 500mA -12v, and 500mA +5v, covering all industry standard power requirements.
Useable case area = 84hp

Internal depth = 55mm

Weight = 1.8kg

6.8cm x 44.6cm x 18.6cm

Range of cv out 1 = 0-10V

Range of cv out 2 = 0-10V

Voltage output gate 1 - off =0 on =5(off = 0 on = 4.65)

Voltage output gate 2 - off =0 on =5(off = 0 on = 4.65)

Voltage output mod = 1-10V

Voltage output clock - off =0 on =5

Power output for modules

+12V - 1500mA peak output**

-12V - 500mA peak output**

+5V - 500mA peak output**

1/4" ts mono output on rear

MIDI in via USB and 5 pin Din

MIDI thru via 5 Pin Din and USB

Included in the box

NiftyCASE

NiftyCASE switching power supply with blades for NA, EU, UK, and AU
Please click here for the NiftyCASE user guide
* The NiftyCASE power supply is designed only to power modules that are being used in the NiftyCASE. Modifying the case or using it otherwise to power external cases & external modules is not advised.  Additionally, we've seen that many modules reported power consumption are not precise. We recommend when planning what modules to use in your case, to allot at least an additional 25% power for modules that require additional power for startup and/or for variances from their reported specifications.
---