---
---
Imagine using 6 analog voices to craft a sound that's powerful, raw, and entirely yours. Imagine a sound existing in two states simultaneously in a single preset, with seamless morphing between them. Imagine multi-axis performance controls offering next-generation musical expression. Imagine instant and limitless modulation at your fingertips. Imagine a polysynth made by musicians, for musicians.


Thee Evolution of the Brute sound
Raw, powerful, organic. The analog Brute voice is an unmistakable sonic force to be reckoned with - how about six at once?
PolyBrute's six-voice power starts with two Brute waveshaping oscillators. With sprawling timbral versatility from delicate airy pads to snarling stacked bass, these are six voices you can count on to excel in every application.
The tactile and reactive nature of analog synthesis is right at the heart of PolyBrute's architecture. Tame or animate the oscillators with an expanded array of multiple filters, envelopes and LFOs for absolute control over the analog domain. Once you've harnessed its sound sources, PolyBrute is your vessel for an inspiring voyage into sound.
Morphing
a bold new chapter in the story of synthesis
PolyBrute's morphing abilities let you perform, compose, and explore sound without boundaries.
Imagine being able to sweep all the parameter settings between two different patches all at once. PolyBrute goes even further with its groundbreaking ability to gradually morph between two completely different states within any patch.
Launch into an infinite continuum of inspiring new sounds in between.
For morphing to work, hands-on control is essential - PolyBrutes takes it to another level. The all-new Morphée three-dimensional performance touchpad ensures that intricate morphing expression is always right at your fingertips. Manipulate any facet of PolyBrute's sound, from delicate morphing to extreme dynamic shifts, across the X, Y and Z axis in an instant.
It doesn't end there; PolyBrute is armed to the teeth with articulate controllers to give your performances and compositions the elusive human touch.
This unparalleled sonic flexibility and expressivity is what earns PolyBrute its place in synthesizer history - a trailblazer of creativity.
The Matrix
The digital brain for PolyBrute's analog heart
The Matrix is where PolyBrute's analog reactivity and digital precision collide - an advanced architecture unlike any synth before it.
Presets
Instant access to 768 presets slots, including patches from the greatest sound designers in the world. No menus, no waiting - just like everything else on PolyBrute.
Sequencer
A tactile visual interface with everything you need to create dynamic polyphonic sequences, arpeggios, parameter motion recording and more.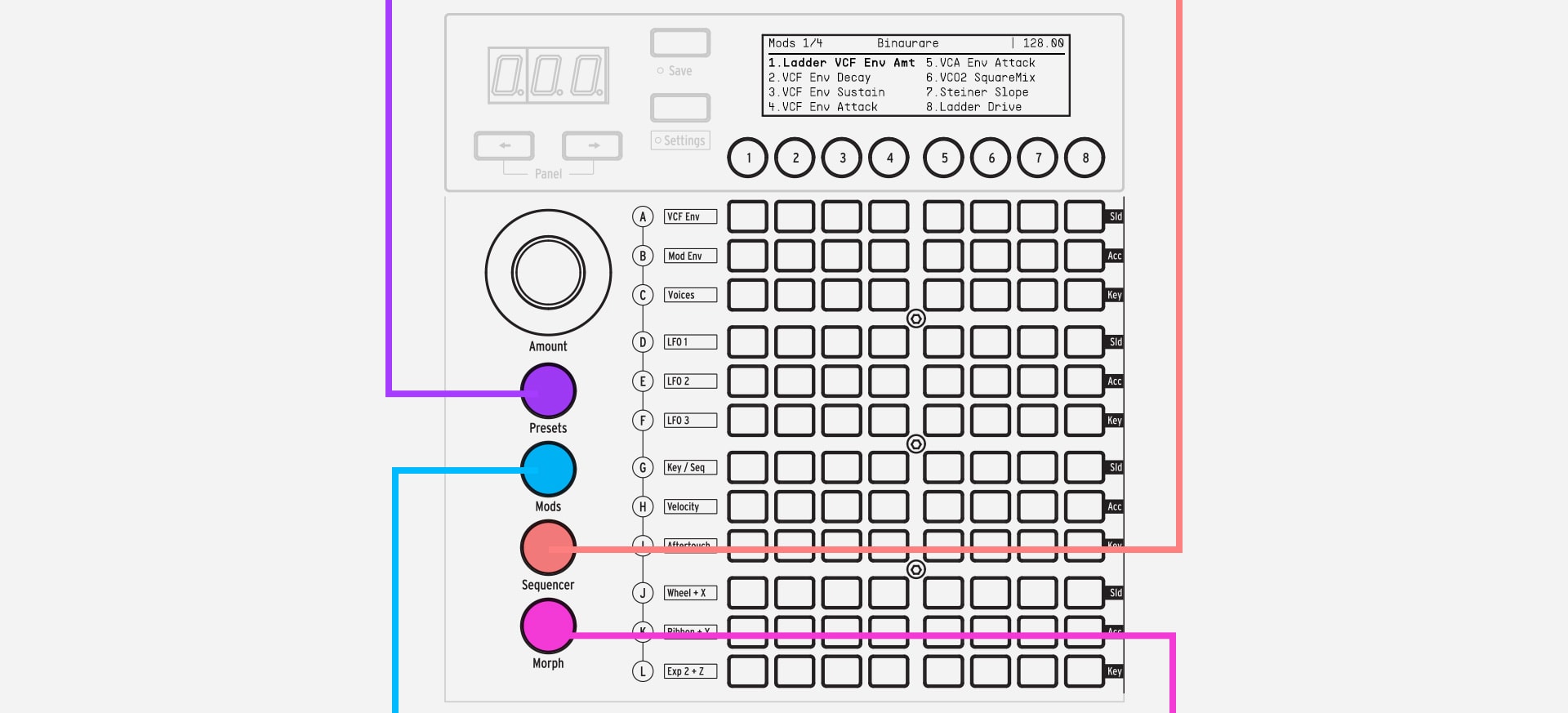 Mods
A 96-point digital patchbay with up to 32 destinations - easily route any of your modulation sources and controllers to influence dozens of PolyBrute's parameters at once.
Morph
Adjust the modulation sources and destinations for the A and B states within a preset to deepen your morphing contrast and color.
A Hands-On Analog Experience
PolyBrute puts all that analog power right up front with dedicated knobs and switches, offering unmatched control and immediacy.
Almost everything you touch also generates MIDI, so you can capture your every move as part of your DAW productions. Need some instant attitude? Crank up the enhanced Steiner filter's Brute Factor. Want to change the cutoff on both filters at once? Grab the Master Cutoff knob. Time to move the floor beneath your feet? Dial in VCO 2's sub-oscillator. It's all right there in front of you.
---